Title: Associate
Company: Bohler
Age: 34 
Education: Bachelor's degree in civil engineering from Virginia Tech
Professional Credentials/Accreditations: Licensed Professional Engineer (PE); Designated Plans Examiner (DPE) in Loudoun County, Virginia
Achievements: I am a founding member and current co-chair of Bohler's Women's Professional Network, helping women build confidence and speak up about what they need to continue accelerating at Bohler. 
I helped develop and pilot Loudoun County's fast-track permitting program to bring data centers online faster. Through the design of a 35-acre, three-building data center facility in Ashburn, Virginia, my team and I helped the county refine the new process and set precedent for future developments. Beginning construction in just over three months, this project was designed and approved on one of the fastest timelines in county history.
As data center development continues to expand across Bohler's footprint, I am the firm's go-to resource for due diligence advice, tenant-specific design requirements, and overall best practices. I have also helped my clients network and make connections to help them move their projects forward.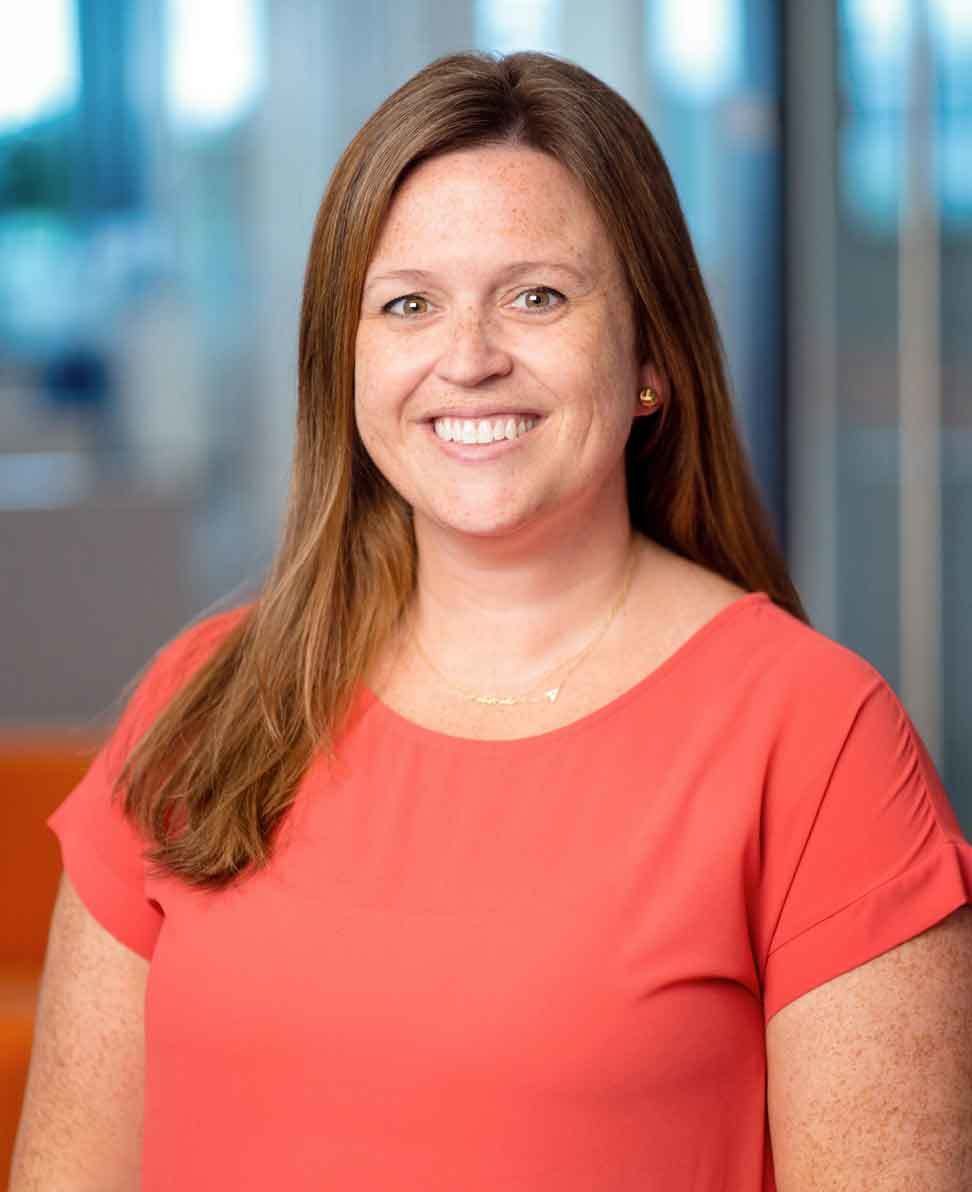 What led you to a career in technology?
I wanted to be a math teacher in high school. I excelled in math, and especially enjoyed my AP Calculus class. That teacher then encouraged me to explore engineering programs because of my skills. I was hooked!
What motivates you to go above and beyond in your current position?
My team. They are ambitious and hungry to keep learning and growing. I feel I owe it to them to keep pushing myself to empower them to achieve their goals and reach their full potential.
What role does sustainability play in your life both personally and professionally?
I am currently on maternity leave with my second daughter. When my girls grow up, I want them to have a world they can live in and know that their mom did her best to give that to them. 
Professionally, I work with our data center clients to implement sustainable features wherever possible, particularly with stormwater management and using water reclamation systems to cool equipment rather than potable water. 
What is the most fascinating lesson you have learned while working with technology?
There is always more than one solution to a challenge. Thinking collaboratively with the greater project team can take a solution further than trying to go it alone. By incorporating the perspectives of different disciplines, we ensure we're taking the best path forward for the client, tenant, or owner.
What is unique about you personally? 
My husband and I met at Virginia Tech and are both civil engineers. We have worked at two companies together and he has been my biggest supporter in everything I do personally and professionally. 
"I encourage women to share their experiences with other women, and to challenge their beliefs about their own abilities and the value they bring to the industry."
What is unique about you professionally?
I am incredibly extroverted for an engineer (30/30 on the Myers Briggs scale). Often, my teammates and colleagues are not quite at that level, so I have learned to adapt my communication skills more fluently to work with all types of people.
What is your most admirable quality?
My desire to help wherever possible. When I see others getting frustrated or being let down, I step in to guide or advise on the situation. If I can't find a solution myself, I love connecting people with someone who can. 
Why is diversity, equality, and inclusion necessary for this industry?
Incorporating different ways of thinking sparks innovation and is a powerful way to learn and grow. We can move the industry forward so much faster by being willing to hear someone else's approach to a challenge or a project. 
What aspect of the industry has the most potential for growth, and how can we accelerate that?  
There is definitely an opportunity to continue developing edge facilities. Thinking creatively about the placement and design of these facilities could help create jobs and provide more remote communities with better access to critical infrastructure and resources for health and safety. Building partnerships with jurisdictions — both staff and residents — could help accelerate this growth in numerous localities. 
Where does the industry need the most improvement, and what can we learn from the current shortcomings? 
The industry needs to be more involved in promoting educational STEM programs at lower levels like elementary and high school. Rather than waiting for college recruits for internships or new hires, we can expose younger students to career paths in technology, therefore strengthening the pool of candidates. If we want to train the next generation, we need to get them interested in pursuing the industry.
When you imagine the future technology, what does it look like?
Accessible. There are many communities across the nation that do not have the same access to the tools needed to innovate. Expanding availability and accessibility will lead to bettering technology. 
What advice do you have for women and other minorities who are currently working in the industry but don't necessarily feel like they belong?
I am passionate about developing the next generation of women in the field. I encourage women to share their experiences with other women, and to challenge their beliefs about their own abilities and the value they bring to the industry. The more diverse a room of thinkers is, the better the outcome. It may be out of your comfort zone to push yourself into that room, but once you are, you've cleared the path for those behind you to sit beside you. 
What advice do you have for young girls who may be interested in a future career in technology?
You can do anything boys can do … and probably better! You are uniquely you, and, if you know you're good at something, don't let anyone diminish your shine.